Aizad Hussain is a man in a hurry. From their base on the edge of Heathrow Airport, he and his brother Imran are building Transworld into one of London's biggest independently-owned logistics and express delivery companies – with specialist expertise in time-sensitive situations and fast turnarounds.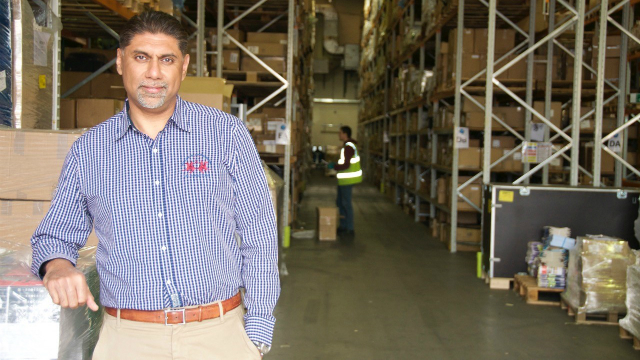 It's a business that has grown organically and through acquisition – and it's one that was developed as a result of careful strategy and a desire to create a family business.
Getting Started
In 2005, the brothers bought a small express courier service in Bermondsey, which had a strong customer base in the City.
"We saw that the British were becoming a nation of online shoppers, so there were opportunities to provide delivery and storage services," he says. "We also saw it was a fragmented market with many small-scale operators. And it was also a service business that could not be outsourced to China or India."
However, the financial crisis of 2008/9 proved to be just as much of a challenge. In 2008, it was a £12.5m business with 60% of its customer base in financial services; today, it's a £15.5m business with financial services accounting for less than 20% of its revenues.
Transworld now
Today the award-winning Transworld is in the retail, business services and telecommunications sectors with 120,000 sq ft of operations space in both west and east London, as well as in Peterborough. Many household brand names are now its clients.
Transworld provides an end-to-end service in logistics and express delivery. It also provides managed services and mail fulfillment. "If it involves storing, shipping, picking, packing, freight forwarding, fulfilling – that is our business. We have invested heavily in advanced web-booking and stock management systems," says Hussain, "to maintain our exceptional customer service and our ability to keep surprising our clients."
Last year was a record year for new business for Transworld and Hussain is confident of further growth. "This is a good environment for our business and the decision about the expansion of Heathrow has confirmed that," he says. "There are many good operations people who like working and living in this area." For a company that puts a premium on its customer service, that's one advantage that, unlike its deliveries, isn't going to go anywhere else soon
Sign up now for this programme